Saddam's new death video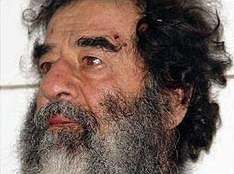 Philippines
January 9, 2007 8:35pm CST
I saw it on t.v. that theres a new video of Saddam's death where he was packed with a white blanket and his neck was on blood.letting this video out in the public could cause a war again for all saddam supporters.Is this punishable by the law by showing a scene which is stricly prohibited to be covered by anyone who witness in Saddam's death?Does media has any obligations for these matter for letting it shown on the public televison?
2 responses

• United States
10 Jan 07
I think at this point it is in poor taste. It is time to move on. We can't linger in what was. Besides we all ready know he won't be left to hang around.

• United States
10 Jan 07
I have to agree with you.You take care now, and thanks for your insight. It is time to move on.

• United States
10 Jan 07
just go to youtube.com, search for saddams execution uncensored, and you get the video of him hung, they will show anything on that site, and is uploaded by people who film it. What ever has been filmed is pretty much out for the public, and is almost impossible to stop it, thats just how its going so far, unless they are able to ban it, but than people will find a way around it. So I just hope it doesn't start a war from the video.