My cousin wants my mom.....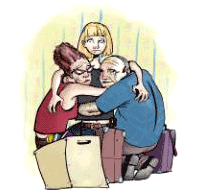 Philippines
January 10, 2007 8:33pm CST
i have this cousin of mine who wants my mother to be his mom for one week.the situation goes this way, he has a boyfriend who is a japanese and will come to visit here in the Philippines but she ask us for some favor that when his boyfriend arrives she wants that our mom will be her mom she will introduce my mom as her parents and we gonna call our mom as auntie.should we tolerate her?she has still parents but shes ashamed of the standing of his parents because they lived in an island i can say that they are in the low average of family living.
1 response

• United States
11 Jan 07
Well she must be really embrassed by her boyfriend or by her parents. I would tell her to introduce him to her own. If she likes him enough then it shouldn't matter to her what her parents think. It's her life let her find out for herself if things will work out or not.