Share your experience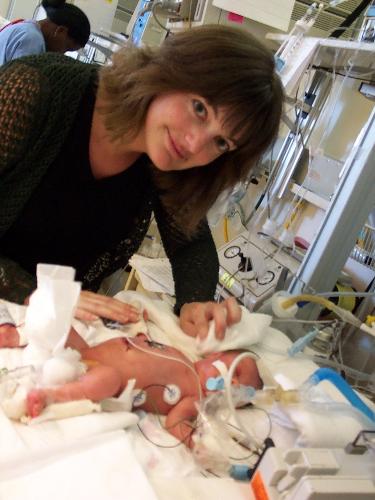 India
January 11, 2007 1:09am CST
I am going to deliver my baby in March end and curious to know what exactly happens. Please share your experiences with me right from the labor pains to the delivery of the baby. I dont know whether the delivery would be normal or C-section. Please tell me experiences in both cases. I am waiting........
2 responses

•
11 Jan 07
my first birth was very painful but enjoyable i can honestly say that i tried my hardest to stay calm and i even used relaxation breathing when i was in there i had no pain relief as i wanted to have a clear mind and remember it but when my contractions first started i was terrified the pain is like nothing else you will ever experiance in your life but just remember to breath with the pain and try not to hold your breath as this will make it worse i found that moving around was good for me so i stayed up on my feet till the very last moment then i got on the bed when i knew i just didnt have enough energy to stay on my feet the pushing is very hard and frustrating as they tell you to push through your bum this sounds very odd but it is the only way to say it and the feeling of pushing and pushing and no baby coming for what feels like hours is very difficult but when the baby starts to birth i wished that i could go back to the start and just have contractions the pain was horrible it felt like i was on fire but the relief after this is amazing the moment the body is born is really nice all the pain is gone and you just forget i know i was in pain but i couldnt tell you what that pain was like i just know it was bad and i will never get that pain any other way other than birth even my partner who was present said that he wouldnt have been able he said that it was the hardest and most wonderfull thing for him to see i would tell you to just stay positive all the things that are about to come are completely natural your body is made to do it so try not to dwell on it and ask your gp or midwife for some free classes on relaxation in birth it really helped me so good luck to you and keep us all postaed on your journey.

• Philippines
11 Jan 07
for my first 3 kids, i can't remember much since i was put to sleep. before i slept, i can feel the pain like wanting to pee. for my last kid, i was afraid since it's my first time to have a delivery awake. i was supposed to have a normal delivery, i was having difficulty pushing the baby out. it turned out that my baby changed her position for the last week so i had a c-section. i was still awake when they were preparing to cut me. i just didn't look and passed out. i was half awake when i heard my baby cried, then someboday said to me, it's a girl. i heard my doc saying, she can't see you, she needs eyeglasses. =p then she also said, it's done, you're ok now, your baby girl's fine. =) it's just different when you have a c-section. you can't move easily as if half your body seemed to pulled down. also, you can't exert much weight because the stitches might came open.