do you play counter strike and do you like it?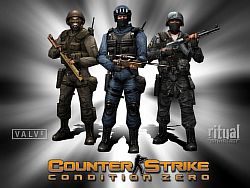 United States
10 responses

• Brazil
19 Feb 07
yeah man! i play counter strike ! I love this game !

• Indonesia
4 Feb 07
I very like/love this game, it's fun when you kill the enemy , and i'm not a cheater.

• United States
4 Feb 07
It's said to be good but isn't it a little too similar to Halo, too unoriginal?


• Romania
14 Jan 07
Yes I play counter strike and I like it very much. I like the team play, the strategies, the hours of fun that it can provide.


• Pakistan
11 Jan 07
yeah .. i do love to play counter strike ..adn em champ in it .!!

•
11 Jan 07

Well yes, though I became a cs freak some time ago but now its normal. I only played counter strike version 1.6. It is a good game, good though it will make anyone to get addicted by itself!