mom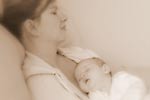 January 12, 2007 7:01am CST
mummy or mom...is the most beautiful creature made by god what do u say....?
2 responses

• Italy
12 Jan 07
Mummy is the best word of the world, when I say "mummy" I feel a sweet sensation. When my mother was alive each morning I stayed with her in the bed for sleeping a few minutes...it was an unbelievable sensation. Now I miss her...

• Italy
12 Jan 07
Thank you, I'm 23 years old and I have lost her two months ago.

• Philippines
12 Jan 07
i definitely agree that MOM is the most wonderful creature made by GOD...MOTHERS made things possible for babies...why not?You wouldn't realize how important mother is unless, you get a chance to be a mom yourself...i am very lucky that i have became a mom to four beautiful babies and i never regret one bit when that day came.we never realized that being a mother with baby in her womb is such a miracle from GOD so we really have to cherish and love the miracle that GOD has given to mothers...in return, we have to love our mothers so much for giving us life here on earth.if not for them, we wouldn't be born and if not for their wonderful womb we wouldn't be sheltered for nine months...