'Pope protesters' hijack airliner. is it Right ?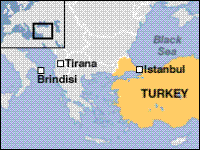 India
October 3, 2006 12:58pm CST
A Turkish airliner flying from Tirana to Istanbul has been hijacked and flown to Brindisi in southern Italy in an apparent protest against the Pope.
1 response

• India
13 Oct 06
Well when things are high and it starts to flood u gotta take steps to control it! Well then the pope things whatever he says is a rule and the world has to follow it wen it isnt like that!