How do you celebrate?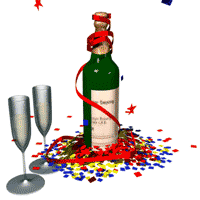 India
January 13, 2007 9:03am CST
you get a promotion in job! you graduate from school! you win big prize in a lucky draw! you get engaged or married! you win the local championship! you find a thousand dollars lying on the road! or you just get together! how do you clebrate when you achieve something/ get something/ are happy?
1 response

• Canada
13 Jan 07
Promotion in job ; Go out and eat Graduate from school ; Nothing much just get gifts Win a big prize in a lucky draw; Never happened Engaged or married ; Very big party. Local championship ; Also never happened 1000$ on the road; Give it back to the person who lost it Achieving a goal ; It depends on what kind of goal you achieve, if you achieve a small goal and it isn't going to change much then well you just get the small wow congratulations.