should beggers be reduced throughout the country........?

India
January 13, 2007 11:29pm CST
Hai friends ,,, you may be knowing that.... beggers and poors r more existing throughout the world and mostly in developing countries ..... what is ur idea about this?
3 responses

• Philippines
14 Jan 07
i think we all could help them by giving decent livelihood, to have proper education, to give them hope, to inspire them that there are truly good rich people who came from humble beginnings that strived hard to be financially successful (and are anonymously doing charity), and with positive outlook in life even with just a speck of hope. and this is for real beggars not those that act like one because i've seen this modus operandi on an investigative report (documentary on tv)

• India
22 May 07
I feel there is a need to streamline the beggers to jobs that are available for them. I see that the industry here is facing a derth of labour and we say that people bed as they have no other option available. I think the administration should act as a link between the industry and the people wanting to work. Turn them away from begging and provide them training in the industry to work and earn their own living.

• Philippines
22 May 07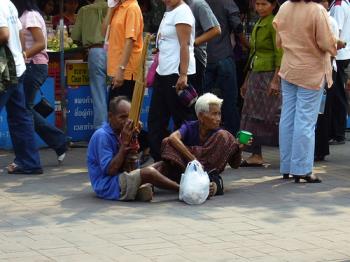 well beggars who are able-bodied should work and not just ask for money in the streets.. beggars make look the streets or corners ugly. The government should be responsible for beggars who are not capable of doing any work..