suicide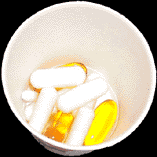 United States
January 14, 2007 6:16pm CST
When i was in highschool I attempted suicide, I think? I took almost a whole bottle of sleeping pills. It was the dumbest thing I have ever done in life, and it was all over some girl. Obviously I didn't die. I just slept for 24 hours. I guess it was a product of low self esteem. Who out there know some one who has attempted or committed suicide.
4 responses

• United States
15 Jan 07
I've known people who have tried and failed thank goodness and a handful of those who succeeded. Two of them hung themselves and one turned the car on and sat in the garage until the exhaust did the trick. It's so sad to think of them. They had so much going for them, but couldn't handle heartache.

• United States
15 Jan 07
When I was in middle school I did sorta the same thing. I didn't take the whole bottle but, I took about 7 or 8 of them. All it did was make me feell really bad. I would never try to do that again! I love my life and appreciate it no matter how bad things are going.