What's an intellectual?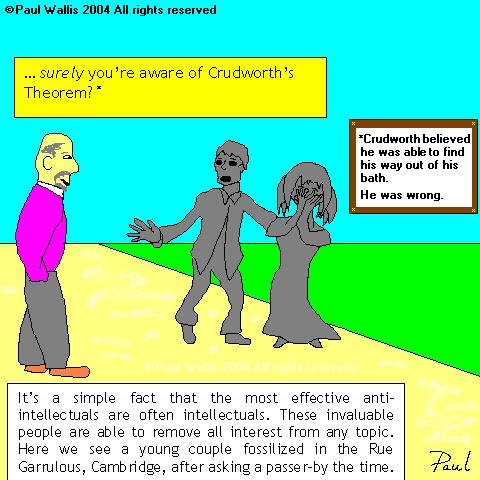 Australia
January 14, 2007 6:52pm CST
Some of you may have met the self proclaimed intelligentsia, that group of monumental bores Mensa doesn't seem to feel any need to kidnap. Nothing like a bit of carefully rehearsed cookie cutter logic to impress anyone. Most college students will understand. Any Tales From Beyond The Grave?
1 response

• United States
15 Jan 07
To me an intellectual is simply a person who knows at least a little, about a lot. Someone that you can have conversations with about anything and someone that can have a conversation with anyone else. I think also that to be an intellectual person, one has to be able to put themselves in someone else's shoes. If you are able to, to an extent, feel someone elses feelings then you are able to comment and analyze the world a little differently.

• Australia
15 Jan 07
Yeah, although you've picked a working method of having an informed perspective, which is terribly unfashionable. It comes dangerously close to knowing what you're talking about, and worse, bothering to find out.