How many people have or have had a hard time getting there 3 year old to bed?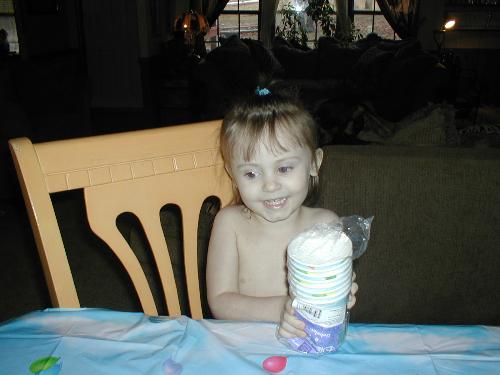 United States
January 14, 2007 10:15pm CST
My 3 year old does not want to go to bed I spend 3 hours fighting with her to go to bed and I need some tips I have run out of options...Please Help
2 responses

• United States
15 Jan 07
I know it sounds harsh, but you should just take her to bed, tuck her in, read a story, kiss her goodnight.....and let her cry and scream after you leave until she stops. A few nights of this and she'll realize this is how things work. She'll get used to it. If you can just be strong enough. We raise our kids...don't let them raise you.

• United States
15 Jan 07
its not that she cries and screams she can get out of her room we first shut the door now she can open it then we put a gate infront of it and now she climbs it so I can't keep her in her room either...

• United States
15 Jan 07
Sounds like you're just going to have to be tough with her for awhile....i know its hard, she'll get past this. Also, another thing I found to be helpful.. give her a bath right before bedtime and put a few drops of pure lavender oil in the water....it will help calm and sooth her, she'll be more relaxed and ready for rest. You can find lavender oil in any health food/supply store.

• United States
15 Jan 07
thank you so much for your help i will try that..

• Australia
15 Jan 07
Put on classical/soothing music in the background. Read a short story and leave the light on and door open and tell her u r right here if she needs you.

• United States
15 Jan 07
I do that every night but she still comes out of her room about 25 times a night before she finally passes out...