Making a great film.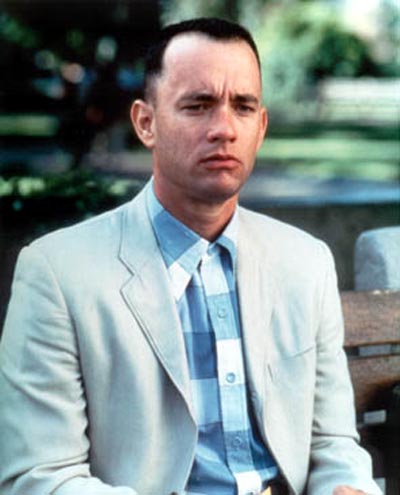 United States
January 15, 2007 9:07am CST
Forrest Gump was seen by MANY as one of the best films in the 1990s. I for one, agree. But, why is it such a great film? What do you think makes Forrest Gump such a memorable and amazing movie? What part strikes you the most? What can you relate to the most? What is your favorite line?
3 responses

• United States
15 Jan 07
I found a used video cassette of this movie in the corner trash can one day when I was out for a walk back in 2004... I had heard all about how this was a stunningly beautiful film way back when it came out the 90's, but I had never gotten around to seeing it for myself... You see, I was working for a company back then and I had very many responsibilities, very little time for myself and I never could go out and enjoy myself without worrying about my beeper going off and interrupting me... All of that changed back in 2000, when I had decided to leave that hellhole... I started my own business and began re-building my life, my way and never looked back... When I got to see Forrest Gump, I never really expected much at first, but as the movie's storyline began to unfold, I suddenly realised that I was seeing one of the most completely inspiring American films of all time... What could you learn from the portrayal of a man who, overcomes polio and outruns his tormenters then later, learns about love, even though he is mentally challenged, goes to war and becomes a hero, comes home to a changed world, become one of the richest men in the USA... And all the while, he seems totally accepting of all of these things, even the tragedies that come with the simple act of LIVING. You know, it seems to me that there are so very many coincidental points made in this movie, and in the lives of a great many of us, that it simply is worth watching again, this time with more attention on the salient echoes of this character in your own life... I think then, you'll have an answer to your very good questions... Forrest Gump sends a feeling of the presence of a truly "common thread" that binds us all... Joy, Abundance and Peace be with you and yours! :)

• United States
19 Jan 07
Well I'm an exception. It was a good movie I just don't think it was a great movie. Maybe there was just too much hype at the time but it seemed like everyone was going on and on about it. I watched it and yes it had some great things in it but I didn't think it was an amazing film. I know I'm strange. some of it I loved but other parts were just way too drawn out and boring for me.

• United States
15 Jan 07
I think Forrest Gump is great for a number of reasons -- but the most important one would have to be that it's a very emotional film. It makes you feel something. Everything else it does, it does very well. Quick cut speed, soundtrack, acting, etc... All of these things make for a good movie -- But that emotional core at the heart of the story is what makes it great.