do you like the film night at the museum?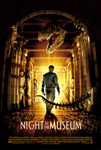 Italy
January 15, 2007 9:31am CST
Good-hearted dreamer Larry Daley, despite being perpetually down on his luck, thinks he's destined for something big. But even he could never have imagined how big, when he accepts what appears to be a menial job as a graveyard-shift security guard at a museum of natural history. During Larry's watch, extraordinary things begin to occur: Mayans, Roman Gladiators, and cowboys emerge from their diorama
2 responses

• India
24 Jun 12
Night at the Museum is a good children movie to watch, I loved the concept by which the museum cam to life. There is a 2nd part to Night at the Museum, which was boring as it's didn't live up to the 1st part ..