Do you think Bike Helmets should be mandatory..all responses rated.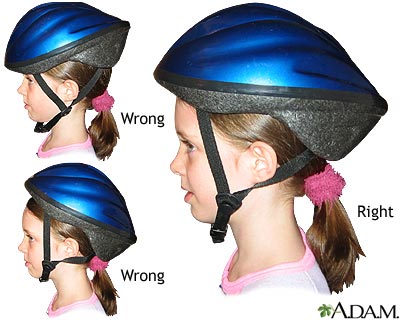 United States
January 15, 2007 6:38pm CST
Do you think that bicycle helmets should be mandatory. Read the facts and then decide. There are 85 million bicycle riders in the US. 784 bicyclists died on US roads in 2005. 92% of them died in crashes with motor vehicles (720). About 540,000 bicyclists visit emergency rooms with injuries every year. Of those, about 67,000 have head injuries, and 27,000 have injuries serious enough to be hospitalized. Bicycle crashes and injuries are under-reported, since the majority are not serious enough for emergency room visits. 1 in 8 of the cyclists with reported injuries has a brain injury. Two-thirds of the deaths here are from traumatic brain injury. A very high percentage of cyclists' brain injuries can be prevented by a helmet, estimated at anywhere from 45 to 88 per cent. Many years of potential life are lost because about half of the deaths are children under 15 years old. Direct costs of cyclists' injuries due to not using helmets are estimated at $81 million each year. Indirect costs of cyclists' injuries due to not using helmets are estimated at $2.3 billion each year. Helmet use in the US varies by orders of magnitude in different areas and different sectors of our society. White collar commuters probably reach 80 per cent, while inner city kids and rural kids would be 10 per cent or less. Overall, our best wild guess is probably no more than 25 per cent. Sommers Point, NJ, where a state helmet law is in effect, found that only 24 of the 359 students who rode to school in one week of the Winter of 2002 wore helmets (6 per cent) until the School District adopted a helmet rule. North Carolina observed 17 per cent statewide before their law went into effect in 2001. Helmets are cheap. The typical discount store price has risen from under $10 to about $15, but there are still models available for under $10 at major retailers.
5 responses

• United States
16 Jan 07
I do feel that bike helmets should be mandatory as it would prevent a lot of serious head injuries and deaths. I am not surprised by the statistics. It is hard to understand why people do not wear them as it is for your safety as well as your childrens safety. You could get hit by a car from behind or front or something may go wrong with the bike and you could fall. I think people are embarrassed to wear helmets or they feel like nothing will happen to them. Those people who ride motorcycles should also be required to wear helmets.

• United States
16 Jan 07
I fully agree with you. I know a woman who was hit by a car at 20yrs old. She is 35 and if you met her you would think she was acting like a 15yr old. She understands that she has brain damage and she remembers things from her past, but the connections aren't right. She now goes to a workshop daily with disabled, mostly retarded adults. She almost didn't live through it. She was wearing a helmet can you imagine if she was not. The car ran over her head twice.

• Philippines
16 Jan 07
Yes, wearing helmets - wheter a bike it is- must be mandatory. It is for the protection of the bikers during and when meeting accidents.


• United States
16 Jan 07
I don't think it should be mandatory. People should be permitted to take risks with their own lives as long as they don't endanger anyone else. The only exception in my mind is children.