Do You Pray?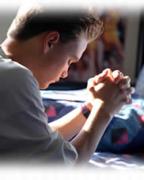 Philippines
9 responses

• United States
16 Jan 07
OH,YES! I TRY TO PRAY AS MANY TIMES IN A DAY THAT I POSSIBLY CAN! I belive it, I have seen it's rewards, i feel God's presence, and when you really pray from your heart, the Holy Spirit manifests itself. By praying, you are opening the communication line between you and God. And God tells us in word that we need to have a personal relationship with Jesus. It has affected my life totally. I am a changed person. I see things differently, i feel like i have more patience with my children....there are so many benefits from prayer. Try it, you'll see the difference! God Bless You! Jesus Loves You! isenia

• Philippines
16 Jan 07
YES prayer is powerfull especially when we are very down and do not know what to do - i always find that prayers help me to relief some of my bothers - how bout you


• Pakistan
16 Jan 07
yes, I pray to become a good human being.I feel good. Yes i evelieve in prayers with positive work. It affects my life alot and save me in many incidence

• Philippines
16 Jan 07
yes, i make it a point to pray every night before going to sleep,just a short simple prayer to thank Him for all the blessings i have received and ask for forgiveness for the mistakes i have done.then, if i am experiencing a problem or confused, i also ask for His guidance. i believe that one can pray and talk to God even if it is not inside the church. praying is very important to me because if i have a problem and i pray, i somehow feel that my load has lighten up a bit and i have faith that He will guide me to overcome whatever problem i am facing.

• United States
16 Jan 07
I pray about all kinds of things and people. Cause i believe god listens, it makes me feel better, makes me feel calm, Yes i believe in prayers! they do come true if you want it to and pray hard enough. It makes my life better.

• United States
16 Jan 07
Five Finger Prayer 1. Your thumb is nearest you. So begin your prayers by praying for those closest to you. They are the easiest to remember. To pray for our loved ones is, as C.S. Lewis once said, a "sweet duty."2. The next finger is the pointing finger. Pray for those who teach, instruct and heal. This includes teachers, doctors, and ministers. They need support and wisdom in pointing others in the right direction. Keep them in your prayers. 3. The next finger is the tallest finger. It reminds us of our leaders. Pray for the president, leaders in business and industry, and administrators. These people shape our nation and guide public opinion. They need God's guidance. 4. The fourth finger is our ring finger. Surprising to many is the fact that this is our weakest finger, as any piano teacher will testify. It should remind us to pray for those who are weak, in trouble or in pain. They need your prayers day and night. You cannot pray too much for them. 5. And lastly comes our little finger. The smallest finger of all which is where we should place ourselves in relation to God an others. As the Bible says, "The least shall be the greatest among you." Your pinkie should remind you to pray for yourself. By the time you have prayed for the other four groups, your own needs will be put into proper perspective and you will be able to pray for yourself more effectively. This makes me feel wonderful! You have to have a relationship with God before you can get the full effects of being saved and loved by God.

• Philippines
16 Jan 07
Yes I pray all the time. I pray when I am happy and when things are really going well in my life. I pray when I am sad and am really feeling down. I pray every morning when I wake up and before going to bed. I pray everytime I feel like it. Yes I believe in prayer. When you have a problem and you pray you'll feel a lot better and you'll feel hopeful that things will be better for you. When you're happy and you pray you feel happier that you're prayers have been granted. I feel good when I pray thats why I pray all the time.