there's something moving inside the coffin!!!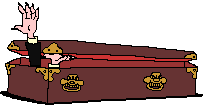 Philippines
January 16, 2007 11:47pm CST
since i was in the first grade, i am already afraid of the dead, the coffin, and the things related to it.. so if you really scare the devil out of me, bring me to the movie where there are the coffin scenes and the dead ones.. in fact, going into a funeral scares me.. its like, the image i saw inside the coffin is pasted in my mind.. im afraid of it.. i want to face my fears, but then i just really cant! i wont ever dare myself go inside the horror house with the coffin displayed inside.. i believe each one of us has his own fears.. what's yours?
No responses