Are chickens evil?

Australia
October 5, 2006 4:54am CST
They steal off each other. They fight all the time. If the world were run by chickens would it be a really bad place?
5 responses

•
5 Oct 06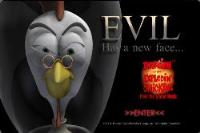 Why do you think there are many overweight people in the world?! We know the truth! Chickens are rising up their thousands against us, they will form a revolution and destroy our way of life. Forget the War on Terror this is the War on Chickens! The more you eat the less chance they'll be able to reform their infrastructure.

• Australia
5 Oct 06
Hi MooChicken, they do look a little evil with their beedy little eyes and all. They make me laugh cause they run soo funny and quite happy to prang/crash into one and other for food. I would have to say Nah, who ever heard of an evil chicken? However Roosters on the other hand, you gotta watch them buggers...

• Ireland
5 Oct 06
people steal from eachother we fight all the time we even kill eachother are we evil or chickens? 80)

• India
5 Oct 06
never...we eat chicken every day...how can u say they r evils..we cannt eat evils