Are you obsessed with Sunglasses?


India
January 17, 2007 4:19am CST
I must confess, I am in love with my big stylish sunglasses. I just cannot forget to pick up my sunglasses when i am leaving home in the afternoon. Are you also obsessed with your fave pair of sunglasses? Do you like big ones or small ones???
6 responses

• United States
9 Feb 07
I love sunglasses. One day I'll buy me a pair of Chanel's once I can find a style I'm content with. I don't like the huge ones that look like bug's eyes and I don't care for the ones where you can see your eyes through them. I like the ones with dark tints or polarized lenses since they really protect your eyes from the sun's radiation. I'm not obsessed with sunglasses but wear them to protect my eyes and find them fun and fashionable at the same time.

• Indonesia
9 Feb 07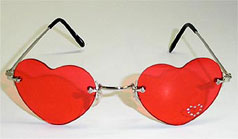 I am not that crazy about sunglasses nor I hate it. I think it's just fine. Well, one must choose the sunglasses carefully or else he/she will look weird lol. But if you choose the righ ones for you, no wonder you'll look stunning and stylish:) Yes, I have a couple pairs of them, and they really help me from sunlight:)

• Philippines
28 Jan 07
I love sunglasses,especially the ones like Audrey Hepburn in Breakfast At Tiffanys, I like it coz it never goes out of style.It the one accessory that I never forget to put on.

• Italy
19 Jan 07
Oh I love sunglasses! I think they can make you look stylish everytime and everywhere! Even if you aren't wearing any make up! My favourite ones are a Chanel pair I bought last year.... I love them!

• United States
16 Aug 07
I have a confession too. I love sunglasses and the bigger the better you know. But one day I went to this high priced mall and went into their sunglass shop, knowing that I could not afford them I shamely shed tears, my cousin knowing my pain shared with the salesman my love for sunglasses. He then started letting me try on the hundrend dollar to the thousand dollar sunglasses,and then the private collection that hadn't even made it out to the sales floor I was in love. It was kind of bitter sweet though because I was looking so amazing that it kind of made it worse but I still have the memory of being treated like a star.