Anyone else with a Gold Capped Conure?

United States
2 responses

• United States
18 Jan 07
I have a black capped conure and he is delightful until he wont quit his high pitched chirping. It is almost as if he is yelling at us for attention or to get the door. He thinks he has to be louder than the dogs when they start barking as well. He does a few tricks and says a few words. He loves taking a bath in his water dish and throwing water all over the dogs or cats that we have. He loves to be handled that's for sure. He has won my heart and many others.

• United States
28 Aug 11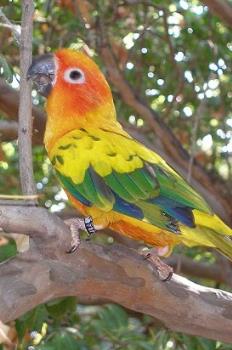 I don't have a Gold Capped Conure, but I do have a Sun. I got her when she was just 8 weeks old. She's now a beautiful 2 year old bird. She's so loving and sweet, and surprisingly quiet...for a Sun! LOL I honestly never thought I'd get a Conure. They were way too much bird for me...or so I thought. LOL But I've since found out that they are wonderful birds. My Conure is proof of that.

Happy mylotting!