when did you get marry?how it is done?and how much is the cost?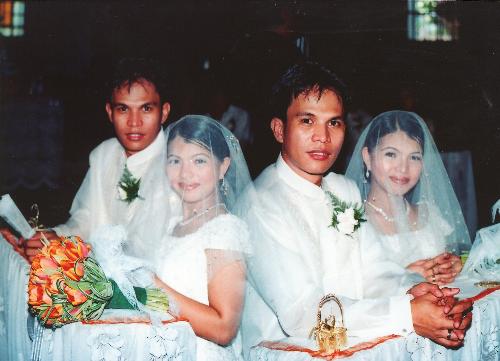 Philippines
January 17, 2007 6:52pm CST
i got married last april 10, 2005.it is a christian church wedding ceremony.it is a solemn wedding which i dream of it.i want my flowers fresh and in uniform in color.my gown should be simple and elegant the same with my husband outfit.we planned our wedding rush.we just took it for 3 months preparation but it all worth it.the cost is high but valuable where i can see my family,my husband family contented of what they received,and what they eat.also,they see that our preparation for our wedding is exciting...
1 response

• United States
18 Jan 07
I got married just recently. September 23, 2006. We got married in my husbands parents backyard because his step-dad owns a landscaping business and their yard is just beautifull! We only had like a month to plan it and we didnt really have that much money so it didnt cost all that much and everything was pretty much in the family so. The priest was part of the family so he was free. Our photography was a friend of the family so we got a BIG discount on him. The stepdad being in the landscaping business and everything made for the flowers and all perfect. And of course the food was all made by family members. The only things we had to spend money on was the renting of the tent and the renting of the tux and my dress and everything you need to make yourself look beautifull.

• Philippines
18 Jan 07
congratulations! as far as im concern planning a wedding is not important as long as both of you is ready...planning a wedding is easy! but to plan yourself to get marry took time to think...