DOWNS SYMDROME - How is it effecting our babies?

Malta
January 18, 2007 12:45am CST
I am an aunty to a 4 year old boy with Downs Syndrome. I am constantly thinking of all ways possible to help this child get a better life. I help him a lot and he is really cute. He does most of his things by himself and he is a real fast learner but I always find myself wanting to give him something else! I see him everyday and we bond very well together. Do you know of any ups and downs of people who have experience with these children?
4 responses

• Philippines
20 Jan 07
My youngest sibling is a Down's syndrome case. He is already 22 years old and you're right... we want to give him more and we don't really care if our mother loves him more than she does for the rest of us. He deserves special attention and care. We love him dearly.

• Malta
20 Jan 07
How I wish that all babies that are born with special conditions find the home your sibling and our boy found! You must be made of wood if you don't give them the attention they want, because when you don't (probably you are doing something else) they always do something to get it from you. It is like they are begging for it!

• Philippines
1 Feb 07
Thank you so much for the mark. I might not have said much, but I believe that our mutual feelings towards this special case made you think mine to be the best. Good luck to you and your child.

• Philippines
20 Jan 07
some facts about down syndrome; Down syndrome is the most common cause of mental retardation and malformation in a newborn. A genetic disorder, it occurs because of the presence of an extra chromosome. As of 2004 no treatment is available to cure Down syndrome. Treatment is directed at addressing the individual concerns of a particular patient. For example, heart defects often times require surgical repair, as will duodenal atresia. Many Down syndrome patients need to wear glasses to correct vision. Patients with hearing impairment benefit from hearing aids. In the mid 1900s, all Down syndrome children were quickly placed into institutions for lifelong care. Research shows, however, that the best outlook for children with Down syndrome is family life in their own home. This arrangement requires careful support and education of the parents and the siblings. Parents and other siblings face a life-changing event in receiving a new baby who has a permanent condition that will affect essentially all aspects of his or her development. Some community groups are committed to helping families deal with the emotional effects of this new situation. Schools are required to provide services for children with Down syndrome, sometimes in separate special education classrooms and sometimes in regular classrooms, a practiced called mainstreaming or inclusion.

• Malta
20 Jan 07
Thanks for your useful information! I knew a big part of it because I look for info to make things better for our baby but maybe other people don't. Thanks again!

• United States
20 Jan 07
I think the best thing you can do for a child with down's syndrome is treat them as you would any other chlid. Try to make them best that he can be. Encourage him in his interests and love him. One of my best friends, believe it or not is a a woman with down's syndrome. I love her dearly and see her often. She is so funny. Hope is 48 and I am 46. She is mentally about 6. But she is so witty, and funny, very quick with her comments. Most people think she is alot smarter than she really is. Hope was put in a State Hospital just after her birth. She remained there until she was in her 20's. However there was a woman, girl 17yrs old that volunteered at the hospital when Hope was 10yrs. old. She took a liking to Hope immediately. She decided to apply for guardianship of her, and had her home to her house on weekends. The weekends turned into holidays too. Then all the kids and families birthdays, barbecues, get togethers, vacations, and summer on the cape. Hope had a new family from the age of 10 but didn't live with them. She moved into a group home in her late 20s and still lives in one. Because of this Hope has alot more social skills. She gets her quick wit from her guardian. This all results from them treating her just as if she was one of the kids. She is just so smart in some ways yet, she can't spell her name. I love her regardless and she will be my forever friend.

• Malta
20 Jan 07
No, our boy has a family to love him. That is quite a bit more than Hope had. These children are able to make a big circle of friendsbut in time they stick to that circle. You always know where you are with them I am happy for Hope,that she has people around her who truly love her. Thanks for your sharing Hope's story with me! I am never bored to hear sories about these children.

• Malta
18 Jan 07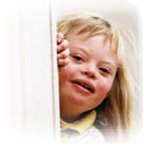 I have some first hand experience of dealing with kids who are downs syndrome. I have made some social work with such persons and all that I can say is that they it entails hard work, dedication and lots of love. I admire your dedication and love towards your nephew because raising up a child with downs syndrome requires more dedication and love, because you know that they are "dependent" on you through out their life time. I always asked God why he allows downs syndrome babies to be born. The only answer I received was that they bring joy to other people life's in the world

• Malta
19 Jan 07
Thanks for your reply. But I can tell you that the dedication and love you give them. Maybe they do not give you the dedication back but the love......you are paid in full!!