quantum theory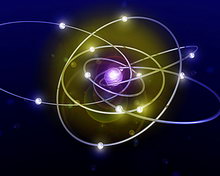 Philippines
January 18, 2007 7:45am CST
televisions, microwaves, nanotechnology and microprocessors are just one of the few things that come out of discoveries from quantum experiments. pls anyone shed light on quantum theory. it also proves the existent of God or a creator, because again all matter is born out of waves.
1 response

• United States
3 Mar 07
Irreducible Complexity and the Flagellum Motor make me think it is possible that energy at it's purest level has a direction? Wikipedia Definition: A flagellum (plural: flagella) is a long, whip-like projection composed of microtubules. They help propel cells and organisms in a whip-like motion. Check this link to find out more about the flagellum motor and Irreducible Complexity: http://reviewevolution.com/irreducibleComplexity.php Check this to find out more about Nano Research: English version - http://www.nanonet.go.jp/english/mailmag/2004/011a.html Japanese version - http://www.nanonet.go.jp/japanese/mailmag/2003/011a.html

• United States
9 Mar 07
You're welcome. And thanks for not mistaking me for a creationist. I hate labels. I do find this micro-cosmic stuff interesting though. I have always found people debating over religion/evoltion also to be quite interesting. But of late, and due to this site, I am beginning to find it tiresome.