fact trivia: a lion who kiss a woman (true!) read: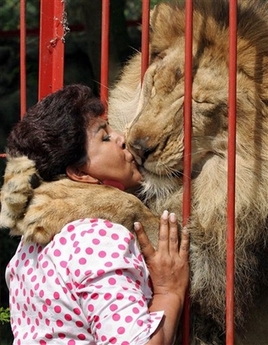 Philippines
January 18, 2007 9:43pm CST
When ive read this story, i was touch! And i was amazed to the concern of miss ana julia to these homeless abused animals. CALI, columbia- through the bars of cage, an African lion named Jupiter stretches his giant paws around the neck of Ana Julia Torres and plants a kiss on her puckered lips. Advertisement of yahoo news. (Summary) It could be a kiss of gratitude: Since Jupiter was rescued six years ago from a life of abuse and malnutrition in a traveling circus, Torres has fed and nursed him back to health at her Villa Lorena shelter for injured and mistreated animals."Here we have animals that are lame, missing limbs, blin, crossed-eyed, disabled," said Torres, 47, who relies on donations and her own modest teacher's salary to run the shelter in a poor neighborhood in the southern city of Cali. They come to us malnourished, wounded, burned, stabbed with gunshot. To read the whole story just go www.yahoo.com (yahoo news) See photo below, Jupiter kissing ana Julia Torres
2 responses

• Philippines
19 Jan 07
we also saw that video. We were smiling all throughout the shot because its amazing that such fiery animal can really show love towards a person. Animals are like humans capable of loving back the people who are good to them. Thay can also defend us from all harm.

• United States
19 Jan 07
aww... that's the cutest thing ever! I would be so scareed if i were that girl though... all it takes is the opening of his jaws and she could be seriously injured.... good for her for doing such great work!