Motherly Love!!!

Canada
6 responses

• United States
19 Jan 07
I must say that some animals, love their babies more than humans do. It is a maternal instinct to love and protect your baby, regardless of what breed animal. But, there are always exceptions to the rule.


• United States
19 Jan 07

• Canada
19 Jan 07
I have no idea i will repost this sorry for this mistake!

• Pakistan
24 Feb 07

No Rotina, i disagree with u. Love for children is such a passion which is found equally in all living organisms. Animals too feed their children, struggle for whole life for their children. Urs this discussion reminded me a day story which i want to share with u. Once, few years ago, a sparrow had made a nest at our home and it was raining that day. Her babies were hungry and were making noise, both the couple flied in the rain of winter and were looking for food. My elder brother and i was looking it and told it to Mom and then She gave us food for them. We gave it to them and sparrow fed its babies and they came silent. It was their love for their children that they went away in the rain of cold weather just for feeding their hungry children. I tried to find interesting pics related to urs this discussion but could n't find the exact.

• Pakistan
24 Feb 07
There is another image which i wanna share and plz remove ur misconception that we lov more than other animals to our babies.


• United States
18 Feb 07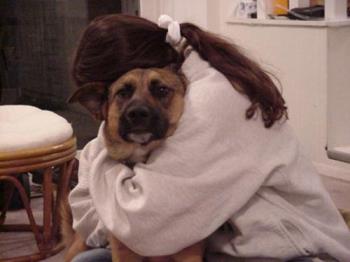 I hope you can report the image, sometimes mylot does that, and I don't know why. As far as I am concerned, I think animals can love BETTER than people do. I know my dogs love me more than my own mother does! I don't think animals judge as harshly and I KNOW they can't get as snarky and ruthless and evil as people do. THey either like you or they don't, there's no manipulation involved.