Best song by the smiths?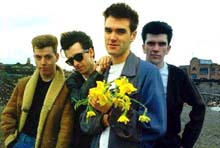 Belgium
January 19, 2007 11:21am CST
Which song do you think is the best one?I think 'How soon is now' is there best one, and I also like very much 'Some girls are bigger then others'. Great band, what do you think?
3 responses

• Hong Kong
28 Feb 07
I think its "Heaven knows Im Miserable Now", "Girlfriend In A Coma", "This Charming Man", "Reel Around The Fountain" and "How Soon Is Now". "How Soon Is Now" has become the most remembered piece partly because of being used as opening theme of the TV series "Charmed".

• Belgium
1 Mar 07
I didn't know about that serie charmed, thanks for the information!

•
5 Feb 07
In the eighties I was big into The Smiths. I think 'The Headmaster's Ritual' is there best song. It describes the angst of gym/PE lessons at school suffering at the hands of some sadistic nincompoop teacher. Great stuff!

• Belgium
10 Feb 07
Thanks for bringin up the title of that song, gonna give it a try!


• Belgium
23 Jan 07
Thanks, good list you made and indeed you gotta love them all!!