Parrot could become economist!!!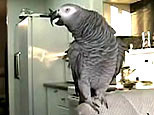 Netherlands
January 20, 2007 1:39am CST
When I was in the college, one of my teachers said if you can only teach parrot to say demand and supply, it would indeed become a great economist. Really, parrot can talk and sing by mimicking but I don't see these bird going to such an advance level of becoming knowlegible in an enterprise. What have you to say please?
2 responses