Do you use all your fingers to type or do you hunt and peck with one finger?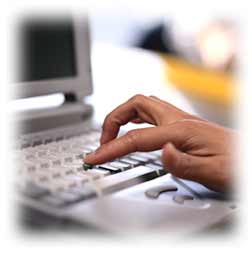 Canada
7 responses

• Canada
21 Jan 07
I taught myself how to type, and now I can type so fast that the people at the school I attended knew I was in the computer lab, before they even entered. They heard the fast typing and knew it must have been me. I spend most of my day infront of my computer, and make my living as a writer. Typing just comes naturally for me...as does the odd typo LOL

• Canada
21 Jan 07
I'm replying to myself here. LOL I forgot to add something. I can type with my eyes closed. Often when I have to sound out a word, or can't remember how to spell it, I visualise a computer keybpard, and "type" the word in my mind. I spell it right every time. Unfortunately, though I do well, I'm only human, and don't have the control of my fingers that I do of my brain, so I make the occasional typo.

• Canada
22 Jan 07
Thanks a million, and thanks for making this a best response.

•
20 Jan 07
i wish i could type with both hands, i have to use only one hand as i can't do it.

• Canada
21 Jan 07
There is something called One-Handed-Typing for people in this position. Someone at my school did that because he didn't have the use of the other hand. I thought that was amazing. I really need to learn that, just incase. If I lost one of my hands, I'd go crazy!!

• United States
20 Jan 07
I took 2 full years of typing in high school. We started on manual typewriters. We are so excited when we got electric typewriters. It was so much easier to type faster when you didn't have to exert so much effort. We then moved on to word processors. Despite all that time spent learning, I've never been able to increase my speed beyond 60-65 wpm. I touch-type (not looking, hands). I've seen some computer majors hunt & peck their way over 100 wpm. Unbelievable.

• Canada
20 Jan 07
Hi there BlueSkies good to see you again. I mentioned in one of my earlier posts that I worked with a guy that did that. I could not believe how fast he was with two fingers and he looked at the keyboard the whole time. Typing is an excellent skill to have.

• Australia
20 Jan 07
Hi there, I just love the description of hunt & peck. Sums up what hubby does on the 'puter! I'm a trained typist and I can type with all 10 fingers. I used to be up to 70wpm but I've slid down a bit as I haven't done typing for some time. So the answer is yes, I can type with both hands and with my eyes closed - but whether anyone could read it afterwards is anyone's guess!

• Canada
20 Jan 07
Yeah I like that term Hunt & Peck also. :) I took typing in grade nine for one semester and never touched a type writer or should I say keyboard until I was 29 and found computers. I sat down and my fingers automatically went to the right keys. That gave me a head start on getting up to speed but I still won't type with my eyes closed. I make plenty of typos with them open.

• Sweden
20 Jan 07
typing was a part of my curriculum when i was in 4th year highschool. i never thought that i really can put my typing skills to work someday. now, i am thankful that i can type even if not looking on the keyboard. it helps a lot and makes my work easier. my typing speed is great and i commit less errors as well.


• Canada
20 Jan 07
Excellent I have friends that type with one or two fingers and they can go pretty fast. I tell them they should imagine just how fast they could go using all of them. thanks

• United States
20 Jan 07
I always use my both hand when typing. But still I am not that fast. My huby types with one hand but he is faster than me. He can do it really fast.