The great pyramids, build by smart ancestors or aliens? What do you think?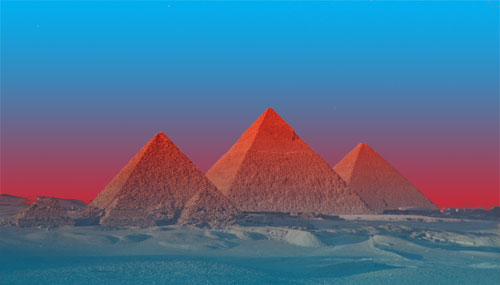 Canada
January 20, 2007 10:26am CST
Over the years I have seen a lot of programs that try to explain the building of the pyramids. They shear size and number of blocks required to contstuct them are mind boggling and I am always blown away by them.
1 response

• Australia
20 Jan 07

Howdy WebMann - how're you today? I've been lucky enough to go to Egypt and visit the pyriamids but I had to bale out half way whilst going up inside the big one! It's very claustrophobic inside when there's a lot of people. The Pyramids are truly fascinating and awesome. So large! I think they were built by very smart people indeed, a civilzation that was ahead of its time and not by aliens!

• Canada
20 Jan 07
Well hello again FeralWoman. I like your username by the way and you image. I am actually doing great. It's a bit cold here but we finally have some snow and it's beautiful and so so white. Some day I will go to Egypt also and see for myself. I know I have no idea just how huge they are but I want to stand there and see for myself. Not by aliens. (Maybe illegal aliens though) I watch programs on how they may have been constructed and the hours and people involved would be mind boggling just like the pyramids are mind blowing. Some day :) Thanks, it's always good to chat with you.