House pet. What is yours? How old is it?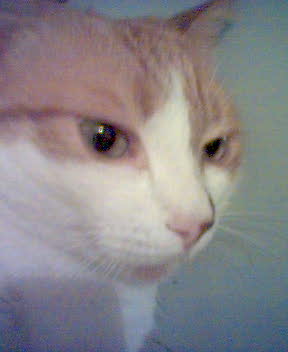 Bulgaria
January 21, 2007 3:25am CST
I have a cat. His name is Dodo. It's from the street. He is almost 7 years old. You can see him in the picture. I'm not sure a response can have a picture attached to it, but if it can, post a picture of your pet.:)
3 responses

• United States
19 Feb 07
LOL I have 6 housepets actually.... two of my cats are about 5 yrs old (got them at the same time) 1 cat is about 2 yrs old my youngest cat is almost 1 yr old both my dogs are 4 yrs old and part Chow part Shepard...

• Bulgaria
19 Feb 07
I wouldn't want to be in your place, carring for them. But when it comes to hugging... :D


• Bulgaria
19 Feb 07
... I hate babies. When my cat was a baby, he was so calm that I thought he would die. I got him from the street, so I wouldn't be surprised if he did. ;)

• United States
2 Feb 07
This is my cat, Kitt..he's almost 13 now, and absolutely huge! I've always accused him of having a mountain lion for a father!..lol..He's my baby and I am definitely at his beck and call!

• Bulgaria
2 Feb 07
I know Dodo's father. He is just like him, but ALL orange. And is just as HUGE as your cat, I think. Even bigger. He was called Tiger. :)