Paying Bills-Have you changed with todays many new methods?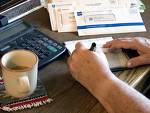 United States
January 21, 2007 7:14am CST
I was talking to one of my mom the other day and she was at the bank getting a large amount of money out. I joked and said, "wow, you are going on a massive shopping spree" she said, "no, I'm about to pay my bills. I have to go get some money orders and send them off. My thought was wow, why not do it online or just write checks. She goes to say, nooo I don't trust the internet and I feel comfortable knowing they are getting money orders or if I can just take it there I will and I don't like writing checks. So my thinking from me growing up to now is so much has changed in how people can pay their bills. It's so much more convenient. Most of my bills just come out of my bank account automatically or I will go to the site and pay by credit card and my rent I write a check. When you sit and think about it, how do you pay your bills, do you write check or get money orders and mail them? Use the internet? call it in? Or still go to the local and pay them personally?
2 responses

• United States
21 Jan 07
I try to pay as many online that have that service, as you can save money on postage which is quite a considerable amount these days,as for going around and paying in person no way ,with the price of gas it would be so much better for her to write a check and mail it even if she had to pay postage.As for saftey she really should consider that option...Her running around with that much money just might be an invitation ...

• United States
21 Jan 07
Yes, but trying to help a old fashioned woman change her ways is impossible. She is not one good with change..lol...

• United States
22 Jan 07
We do alot of online bill paying, the ones in town we just go up and write a check and my husband has some that come out of our checking account automatically. It's just easier that trying to get stamps and mailing them so they get their on time. I love the internet. It takes all the hassel out of things.