Are Roger Federer & Nadal enemies off court?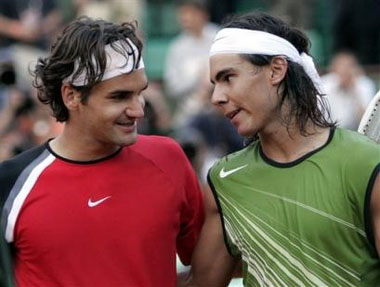 January 22, 2007 7:23pm CST
I wonder how these two rivals treat each other when they meet outside tournaments for instance in the hotel lounge or something!! This picture shows how the two smile at each other or was this just a media marketing winner technique.. everyones opinion would be appreciated.. thanks guyz n galz..
3 responses

• Spain
23 Jan 07
No, they are very good friends. They have met many times outside of the courts, for example I remember when Federer was injuried, Nadal visited him in his home for wishing a speedy recovery. I read in a newspaper that Rafa usually calls Roger "Rogelio" in an affectionate way (that would be the Spanish translation of his name).

•
23 Jan 07
thanks, good response from you..i didnt know that.. wish we could all play like federer.. he and nadal make great role models..