Does our names have any effects on our personlities?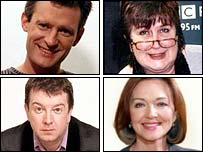 Pakistan
January 23, 2007 1:01am CST
In my religion, it's beleived that a name has great effects on someone's personality. The more the name is nicer, the more the personality of a person will be nicer. I agree with it. I've met alot of people whose names did not have good meaning and I found them really ill-tempered. Do you also have the same beliefs?
2 responses

• Romania
23 Jan 07
I don't really think that our names have a certain influence in our lives.I belive that a greater impact have the star signs.Everybody must belive in something.

• Pakistan
23 Jan 07
Names do have influence on our personalities. Good names can have good impact on our personalities. It plays an important part in our lives.