IS it an error?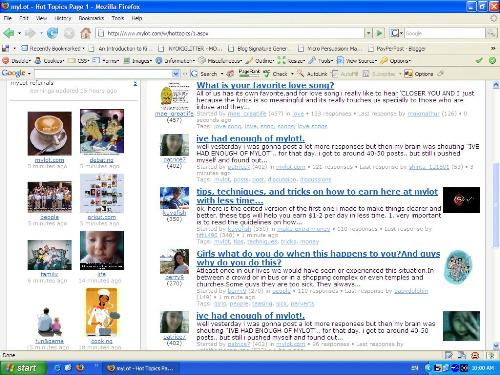 India
January 23, 2007 10:35pm CST
To day I found a very strnge thing in Mylot. When I clicked on today's hot discussions I found two discussions which are same in the hot list. This is about "I hv had enough of MYlot" satrted by patrice7. I have also enclosed the screen shot I have taken. What do you think abt this???
2 responses

• Philippines
24 Jan 07
hmmm. i havent noticed that. i did see that discussion in the top discussion.. interesting. how could this happen?? perhaps this is an error or something more than that. glad you brought this topic.

• Philippines
24 Jan 07
i noticed the first discussion had no image uploaded with it while the other one has an image. so perhaps the poster made two discussions on the same topic.

• United States
24 Jan 07
sometimes, for one reason or another some computer thing goes wrong and replies of discussions get posted twice. Also, sometimes the person posted gets an error message that the content did not post, please try again. They try again and it actually did post the first time, and then they post again and get two discussions.