what about love at first sight?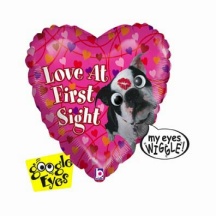 Romania
January 24, 2007 11:30am CST
do you think that love at first sight have the chance to be the one and only love of your life?are there people who got married after that kind of love?i`m curious
5 responses

• United States
24 Jan 07
My husband fell in love with me the moment he saw me...or he says ;) He always recalls the moment he saw me, he turned to his friend and said to him "Im going to marry that girl". And here we are almost 10 years later. :) I personally have not experienced love at first sight. So I cant tell you about my experience. :)

• India
25 Jan 07
i belive in the love at first sight . i think its the best moment of our's life to fall in love with someone .....

• Canada
24 Jan 07
It was love at first sight the moment I laid eyes upon my second wife. I was separated from my first wife at the time, and in the process of divorce... and we just happened to be visting someone in the same ward at the hospital. We talked briefly during that first encounter... which ended with her asking me to dinner at her home that following evening. Long story short, we sat up and talked that first night until the wee hours of morning... and we were married almost exactly one year later to the day. It has been over sixteen years now that we have been married... and each and every day is a blessing from above.

• India
24 Jan 07
I do believe in love at first sight .. bt wht matters is this that wht u saw at first sight in d person which make u fell in luv wid him/her .. If itz all abt looks only .. m sry bt it really makes no sense .. it got to b sumthing more sensible than jst outer looks

• Romania
24 Jan 07
belive what you say in the first paragraf to be true... they could get married not looking for love..but because they found it...