Do you forgive & forget?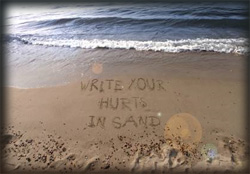 Canada
January 24, 2007 2:08pm CST
Do agree or disagree with the saying Forgive and forget?Have you ever hold on to something lon enough that it efficted your life or friendships/relationships?Do you hold grudges?Or do you believe in letting things go?
2 responses

• Pakistan
24 Jan 07
Hmm.. well.. i totally believe in forgive and forget. Makes no sense to remember the pain... or always ignore.. have a grudge against the person who hurt you emotionally. Cze, if you forgive.. you know that you rule. THey were heartless enough to hurt you. And you had the big heart to forgive them. THat's what i did. The gal i liked, rejected me.. i forgot everything.. and we're still friends.. and i believe.. that someday.. she'll come to me herself.. if fated!

• Canada
24 Jan 07
I believe in forgiving but not forgetting.Because i believe that everything in life happens for a reason.It teaches us and helps us grow into who we are.I dont regret anything bacuase it all happens like i said for a reason.But if your forget the bad then how can you remember the good?I mean in remembering the bad helps you to see the good.