Muffins


7 responses

• United States
25 Jan 07

• United States
25 Jan 07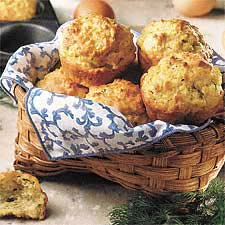 I have a great banana muffin recipe that I make with my nephews. 3 or 4 ripe bananas, smashed 1/3 cup melted butter 3/4 cup sugar 1 egg, beaten 1 teaspoon vanilla 1 teaspoon baking soda Pinch of salt 1 1/2 cup of flour 1 cup chopped walnuts (optional) Preheat the oven to 350°F. With a wooden spoon, mix butter into the mashed bananas in a large mixing bowl. Mix in the sugar, egg, espresso and vanilla. Sprinkle the baking soda and salt over the mixture and mix in. Add the flour, mix until it is just incorporated. Fold in the chopped walnuts. Pour mixture into a prepared muffin tin. Bake for 25-30 minutes.

• United States
25 Jan 07
banana muffins 3 large bananas 1/2 cup sugar 1 egg 1 tsp baking soda 1 tsp baking powder 1 1/2 cup flour 1/3 cup of melted butter mash bananas,add sugar,1 sightly beaten egg.stir in melted butter.stir in dry ingredients.spoon into greased or paper cup in muffin pan bake 20 mintues in 350 degree oven.

• Indonesia
25 Jan 07
Banana Muffins ==================== Ingredients: 2 cups flour 1/2 cup sugar 2 teaspoons baking powder 1/2 teaspoon baking soda 1/2 teaspoon salt 1/4 teaspoon cinnamon 1 medium banana, mashed 1/2 cup milk 1/3 cup vegetable oil 1 egg, slightly beaten Preparation: Preheat oven to 375'F. For large muffins only grease 9 muffin cups. Fill the other three cups 1/2 way with water. In medium bowl, combine first 6 ingredients. Stir in remaining ingredients only until moistened. Spoon batter into muffin cups. Bake for 15 to 20 minutes. Immediatelly remove from pan and serve warm. Muffins can be reheated when wrapped in a paper towel and put in the microwave for approximately 15 seconds depending on the microwave wattage.

• Canada
25 Jan 07

hey i have one great recipie for you and it is Banana Chocolate Muffin... sounds good han, here is whole recipie...enjoy it;Ingredients: 3 c. flour 6 bananas 2 c. sugar 1 c. vegetable oil 3 eggs, slightly beaten 1 - 7 oz. chopped Hershey Bar 1 tsp. baking soda 1 tsp. vanilla Directions: In a large bowl, sift together the flour and baking soda. Stir in the sugar, oil, vanilla and eggs. In a separate bowl, mash the bananas, add to the sugar, oil, vanilla & eggs mixture, and beat gently. Fold all into the flour mixture. Next stir the chocolate chunks into batter. Bake at 400 degrees for 15-20 minutes. Makes approximately 24 muffins. i hope you snd your daughter have ahd quality of time while making these muffins... have fun sweety...

• Indonesia
25 Jan 07
Orange and Chocolate Muffin ============================ Ingredients: 2 cups all-purpose flour 1/2 cup sugar 1 tablespoon baking powder 1 teaspoon salt 3/4 cup chopped toasted almonds 1 egg, beaten 3/4 orange juice 1/3 cup vegetable oil 1/4 unsweetened coca 1 teaspoon finely grated orange peel Preparation: Combine flour, sugar, baking powder, and salt. Reserve 2 tablespoon of the chooped almons; stir the rest into the dry ingredients. In a separate bowl or large measure, combine the egg, orange juice, and vegetable oil. Stir into the dry ingredients until all ingredients are moistened. Remove half of batter to another bowl. Stir cocoa in to half of batter; set aside. Stir orange peel into the remaining batter. Place paperliners in a 12 muffin pan. Holding pan and tipping it to the side slightly, spoon in orange batter. Fill other side of muffin cups with chocolate batter. Sprinkle muffins with reserved chopped almonds. Bake at 400' for 20 minutes. Serve warm. Makes 12 muffins. Happy cooking!!!!!!!!

• Canada
25 Jan 07
That is sweet that you are wanting to bake muffins with your little one.. I have enclosed a recipe below if you'd like to use it.. I know that I enjoy baking quite often, though I don't make muffins regularly.. But I hope if you do end up making these muffins with your son/daughter that you guys end up enjoying them.. All the best. xx "Banana Chocolate Chip Muffins." Ingredients are as follows: - 1 egg - 3/4 cup of sugar - 1/3 cup of vegetable oil - 2 cups of flour - 3 medium bananas, mashed though - 1 teaspoon of baking soda - 1/2 teaspoon of salt - 1/2 cup of oatmeal - 3/4 cup of semi-sweet chocolate chips Directions are as follows: - First beat in the eggs, the oil & the sugar in a bowl at least until smooth. - Then stir in the bananas. - Then combine the dry ingredients & stir in the banana mixture, just until well moistened. - Then stir in the chocolate chips. - Then fill the greased muffin cups (Or use cupcake paper liners) 3/4 full though. - Bake at 375 degrees F. - Bake them for at least 18 to 20 minutes or until the muffins test done by sticking a tooth pick in the middle. Then enjoy! xx