What is there to do in palm springs?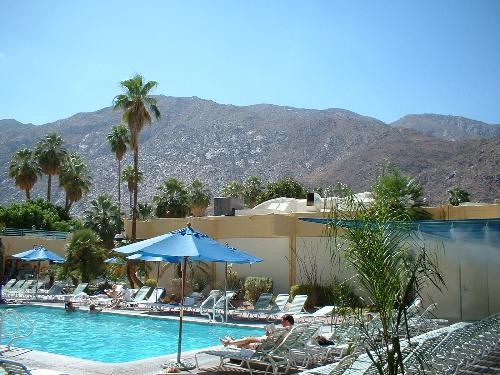 January 25, 2007 9:59am CST
We visited and stayed in a spa resort, so we enjoyed the spa treatments and lounging around the pool, but when we took a walk around the surrounding area, there was just the usual stuff. Clothes stores, book stores, starbucks etc. I noticed that there were plenty of casinos, but i don't gamble so what else is there to do in Palm Springs? Did we miss out on anything unique and amazing?
3 responses

• United States
24 Feb 07
Nothing. There is absolutely nothing to do in Palm Springs. Seriously, it is so utterly boring and hot and I just hate it. Ok, maybe I lied. There's a little zoo called The Living Desert and that's pretty cool, but other than that, there really isn't much else to do. Not that I know of, anyway.

•
26 Feb 07
It seems to have to have a reputation as a party city. Unfortunately, I'm not really a party animal and we were pretty tired after the amount of driving we'd done in the preceeding week. It's reassuring to know I needn't regret missing anything fantastic! Thanks for your reply.

• United States
27 Feb 07
No problem! Not sure I can really talk, though. I've only ever been to Palm Springs oh... well, once that I remember. I'm sure I've been there when I was a little kid. Pretty sure I saw those uglified windmills before. LOL Went out to Indio before, too. The resort my family stayed at wasn't too bad. Had a lazy river or whatever they call it and that was pretty cool.


• United States
26 Apr 07
I love Palm Springs for that very reason, there isn't alot to do. You don't run yourself ragged trying to squeeze in all the entertainment possible. You relax. I don't think we relax enough. I love to go there and just lounge and do whatever at leisure. Did you take the tram ride? That is really cool :)

• Canada
21 Dec 10
Do you play tennis? There are so many beautifully set courts in the Palm Springs area! Added benefit - playing in hot but dry weather it's much easier than playing in humidity. Other activities in the area? There are hot balloning, horeseback riding, jeep tours, etc. As far as more general things go, in addition to the Living Derert, I'd recommend the Knott's Water Park, the aerial tramway that up the hills of Chino Canyon (breathtaking views!).