Does anyone have any suggestions?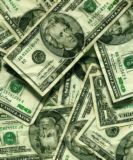 United States
January 26, 2007 3:39pm CST
of how to my more money in one day on mylot at all. anything will help!
3 responses

• Pakistan
26 Jan 07
make quality responses.. rate other people's responses.. upload appropriate pics.. basically i'd say.. that the surefire way of making the most on mylot is quality responses.. and well thought of discussions.. those tat attract nice responses.. hope the best fer ya.. good luck!

• United States
26 Jan 07
you have a point there. i post about 100 post a day. and i rate everyones questions. i also make comments to the questions that i have asked and i rate their answers as well. also try to stay on the subject when you are posting under a question, and if yu answer a question then you need to explain your answer. good luck!!!

• United States
26 Jan 07
Respond to as many discussions as you can with good quality replies. and post your own discussions also. invite people to join by sending them your referral link.. when you reach 500 posts add photo's to the conversations you respond to. and add photo's to your own discussions. if you have alot of free time on your hands I suggest spending as much time at this as you can if you really want to make money.. Good Luck and have fun!!

• United States
26 Jan 07
thank you the referreal part I'm having problems with because I can't find no wants to sign up!

• India
26 Jan 07
respond as much as u can till your hands get tired !