CLOSER: what did you think of this movie?

Philippines
January 26, 2007 5:39pm CST
i really love this movie. i think it's one of the most realistic movies there is when it comes to showing people's reactions to circumstance. none of the characters are black or white. they all have weaknesses and i think that makes it so real.. i also love the really strong dialogue. plus jude law and clive and equally hot! :D ive seen it several times and im not tired yet. how about you?
2 responses

• India
29 Jul 12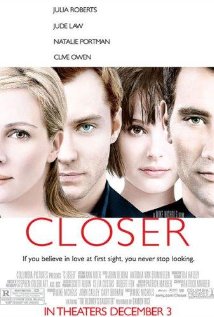 I have heard about the movie Closer starring Julia Roberts, Natalie Portman, Jude Law and Clive Owen in lead role, but have seen this movie yet. Closer does seem to be a good movie to watch, I will try to watch this movie soon ...

• United States
8 Feb 07
It is one of my all time favorites. It is one of those movies that you can see over and over again and see something new each time.It is my favorite jude Law role. And it is my first Clive Owen film. They are so good. It was good to se Julia again and Natalie Portman. The dialogue is so refreshing and I love the song they use for the end credits.