Update: My Bella is growing..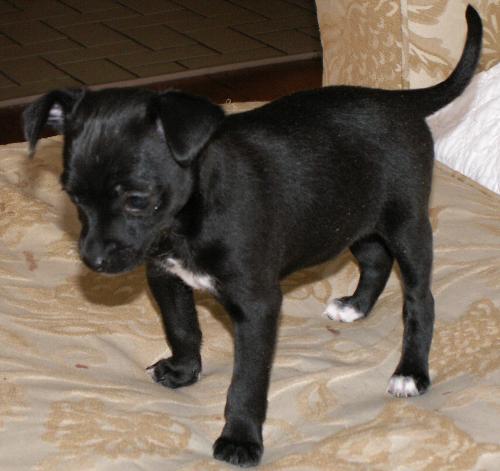 United States
January 27, 2007 6:42pm CST
My new puppy Bella, black with white chihuahua is now 6weeks old!! I got some new pictures of her. I'll post one here and the other two in my profile. She's getting teeth and knows her name. She's actually starting to look like a chihuahua now rather than just a puppy. Still 6 more weeks till I get her.:(
9 responses


• United States
2 Feb 07
When I was young my imaginary friends name was Isablella. So I decided to name her after her, Bella...hehehe

• China
31 Jan 07
wowo,Bella is good name and she is so cute. Does she has any brothers or sisters?A dog can give birth 3-4 puppies one time.

• United States
1 Feb 07
She has a brother named Shadow. You can see his picture in my profile.

• United States
29 Jan 07
Bella is such a cutiepie!!! Makes me want one to bad I can't my hubby would shoot me though..lol Thats great that she will soon be yours but why are they waiting till she is 12 weeks old for? I thought they are weened at 6-8 weeks. You will be getting her around St. patrick day? Or somewhere around their. Well, good luck and hope things go okay. Her picture makes me want to grab her up and give her a big hug..lol I do love animals.

• United States
29 Jan 07
It's because her and her brother are so little. The breeder wants to wait until they reach a pound or close to it. I didn't get my Gizmo until he was 14 weeks because he was very small also. Now he weighs 5 lbs at almost 2years. I can't stand the wait. I chose gizmo at 2weeks old.

• United States
28 Jan 07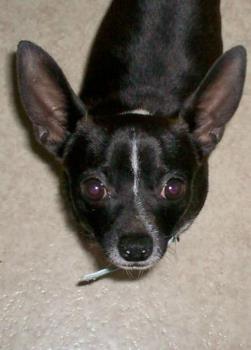 She is adorable. I know you are getting really excited. She looks like my Pepi except he has a thin white stripe on his nose. He is 9 months old now and my femaile is totally in love with him. I'll add his picture also in my profile.

• United States
28 Jan 07
It is great that you have known for so long that she will be yours. I am guessing you are visiting her, so she can get attatched to you like you are to her. Puppies are cute, I am just not really a dog person. I love all kinds of baby animals, though. Have fun with your Bella.

• United States
28 Jan 07
No actually I've shown all I've seen of her. The breeder lives almost 3 hours away and will only let us see them until they have had all their shots. So I'm just going to wait and make one trip. I hate doing that but, what's the point of driving 6 hrs just to look?

• United States
29 Jan 07
She looks like such a sweet dog. The wait will be worth it and besides before you know it you'll have her home with you.

• United States
28 Jan 07
Oh my gosh, she is so adorable. I remember when you first posted waiting for her. Why do you have to wait 6 more weeks? Thanks for her picture, she looks like a chihuahua pup to me. So very cute. I bet you cannot stand waiting so long. Keep us posted.


• Croatia (Hrvatska)
31 Jan 07
Bella is so sweet.. It's probably very hard for You to wait 6 more weeks....but 6 weeks is not so long time. It'll come very soon..