What?????

United States
January 27, 2007 10:55pm CST
what is Michael Jackson known best for his singing or his dancing? I personally like Mike for his singing. I am one of those folks who you will be crying at a concert. I could careless if he like little boys or white girls or whatever, I just love his voice and I think he can sing.
10 responses

• United States
28 Jan 07
I think he is very talented but an exceptionally messed up human being. In my mind, he is now most known for excessive plastic surgery and inappropriate behavior with children. I would say that artistically he is most memorable for his great videos, which of course include his dancing. Without those two things, I doubt that he would have been the same level of superstar.

• United States
28 Jan 07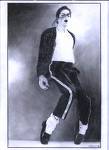 I enjoyed his singing and dancing back in the days...Just as you, I didn't care much about the issues with children... Sorta like R. Kelly...I love his music always will..I could care less about those issues he had with the law...lol

• United States
28 Jan 07
When I was a kid I wanted to marry him. I use to love his music. And I still like some of it. But all his respect is gone for me. I think he is defintely disturbed and I think that has a whole lot to do with the way he was brought up. He is very creative and has a interesting voice.


• Spain
28 Jan 07
I like michael jackson due to his singing and his dancing, he is the best on all about the music in general, i hope to see a new michael jackson in the scene soon although will be hard i think, have a nice day on mylot and happy earnings also.

• United States
28 Jan 07
I don't want anything to to with that pervert. he is stupid. you like him. well I don't. to each his own.

• United States
6 Apr 07
Michael Jackson has an innocent love for children. Facts have proven his innocence. To answer the first question I like him as a singer first and a dancer second. But as a humanitarian that truly has done a lot of good is what I love most about him.


•
3 Feb 07
I don't want to have to say this, but for most people today, Michael Jackson is probably best known for his recent court cases. I was, and remain, a big fan of his music, but now, when he is mentioned, people instincively think of the court cases he has had over the past few years.

• United States
1 Feb 07
well I dont think he is known for just one, I think both. and no, I dont think anyone should care if he likes white girls. who someone chooses to date, no matter what the race is its their choice. I do care if he has touched children though, that wouldnt be right. but as far as his voice and his singing go's I have always been a fan.