Eat salad?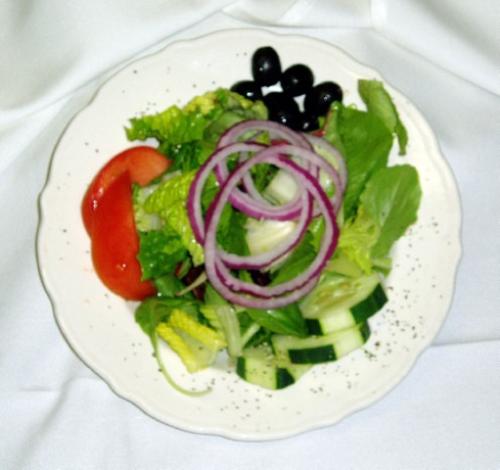 Philippines
9 responses


• United States
6 Feb 07
Salad is a term applied broadly to many food preparations that are a mixture of chopped or sliced ingredients. A salad can be served cold or at room temperature, and it can also form the filling for a sandwich. Though it can be made with meat or eggs, it usually includes at least one raw vegetable or fruit, most often lettuce. Often it is prepared or served with a dressing. A salad may be served before or after the main dish as a separate course, as a main course in itself, or as a side dish. Salad may refer to a blended food item— often meat, seafood or eggs blended with mayonnaise, finely chopped vegetables and seasonings— which can be served as part of a green salad or used as a sandwich filling. Salads of this kind include egg, chicken, tuna, shrimp, and ham salad. I enjoy salads. I toss a little bit of everything in them. I like the standard..... different cheeses, hard boiled eggs and bacon bits. I am now trying to sneak more fruit into my salads with pears, apples and dried fruit. I've started adding pecans, pine nuts and almonds trying to get more protien, fiber and grains in our diets. I am not allowed to put cucumbers, squash or radishes in our salads, my hubby does not like them. When I have company over, I like to make a colorful salad by adding green, red, yellow and orange peppers. It gives the salad a nice festive flare. I like to experiment with different dressings. I had a terrific cranberry vinegrete the other night. The remainder of my family will only each ranch dressing. I prefer the vinigrete dressings because they have more zip and less calories than creamy dressings. Salads are a fabulous vitamin source, fiber and in general wonderful for your body! Be creative with your salads, with all the different veggies and toppings, no need to have the same salad 2x's in the same week.

• Philippines
31 Jan 07
ceasar's salad is the best. I am a vegetarian and loves salad that are veggies-filled. I have tried different kinds of salad and nothing compares, feels good, feels light, feels nutritious!


• Philippines
29 Jan 07
I like fruit salad, always make one for my family.

• Philippines
29 Jan 07
I love salad - fruit, macaroni, veggies...I think almost all kind of salad I love them...:) and it's very healthy to eat. agree?



• India
28 Jan 07
my favorite salad is fruit salad. i like fruit salad as i have braces on my teeth and i m not able to bite any fruits and most of the fruits can be eaten only by biting. so i prefer fruit salad instead. this solves my problem. i also eat veg salads when they include more vegetables.