how do you teach a blind child what color red is?

Philippines
January 28, 2007 10:50pm CST
How will you teach a blind child what colors are? How blue looks like? red, black, orange, yellow, or even the rainbow since they are deprived the gift of sight?
2 responses

• Philippines
29 Jan 07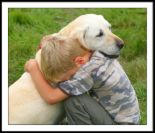 its so hard to tell anybody with just words..but God gave us five senses so that when one sense is missing, the other four can make up to it.. i remember anne sullivan and helen keller, and the story of how anne taught helen what love is.. teaching emotions is hard-- but was made possible.. how much more colors? hug and love-- that is red.. to feel being cared of and loved.. mourn for someone or something-- black.. the down-est moments when mama is away and you are missing her-- blue, feeling ampty and waiting for someone to return and hug you tight again feeling energetic and strong-- that's orange.. when you know you can stand up amidst the changing life situations renewal-- the child may not see how plants regrow, but he can feel you renewing yourself all of these made up the rainbow-- this is called life..

• Philippines
10 Aug 07
I also have a discussion about this matter. And what I said, is that the concept of color may be very difficult for US (meaning now that we had experience sight) to imagine if we are blind. But like the responses I had and the response in this thread. Color can be taught in a way that nulls it being visual. But now I think, then it strips the main essence of color... but whatever, like i said the I can never tell unless I was born blind.