Is this picture tells you anything??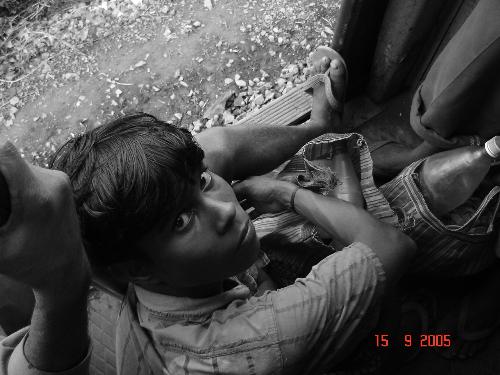 India
January 29, 2007 1:43am CST
being the photography my hobby... my all time fav picture is this one. While looking at it my thoughts flow across my mind. My sister told me that she can write a whole story based on this picture. I am curious to know what thoughts comes across your mind when u see this picture ??
1 response

• India
8 Feb 07
The picture has its own story to tell..... A world of squashed, unfulfilled dreams...... a world of hope yet to be realised..... but a grit unmatched... to survive with dignity no matter what!! Is this a story?? To be honest, its not.... the eyes of this boy tell too many things that has happened, too many things that he wishes to happen..... What they are we can only surmise.... but can we ever know or even feel them. I guess not, compared to them we are born with the proverbial "silver spoon in our mouth". For us it is just remotely manageable to even imagine, the life that they live..... where surviving a day more important than surviving an entire life..... days spent without having even a single proper meal.... is it something we have faced?? I doubt!! How then can we imagine, what stories this little boy has to tell... except that it would quite heart gripping...... that's all I would say about this picture!! That's all!! To hope!! and life!!