Does religion turn people into better human beings?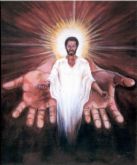 Philippines
2 responses

• Australia
29 Jan 07
Somehow, partly or in some way. When people heard testimony about God somehow it helps. But the changes depends on the person. If an individual have grown and used to be let's say a bad person, who you think has no conscience and really immoral, you can't say the final words. It's not the religion or you who can tell but definitely it's they themselves can do so. Sometimes, it's quite surprising when a good person you know good has done bad things you didn't expect and had never come into your mind that he/she could do those things. That's reversable. If that's the case, a bad person can be unexpectedly change himself into a better person too. Only a person who listens to his heart will be delighted and a person who acts with faith will have a better way of living. Religion symbolizes that we are a Son of God. On the other hand, it's the actions that proves that we have faith in our religion and we are a body of it.

• India
29 Jan 07
i think that they divide people on the basis of religion. all people have the same qualities but they r ready to fight for the name of religion. no one takes care of others and we don't have enough respect for people of other religions. so this is not making us better human beings but it is discriminting us on its name.