Spam username and avatar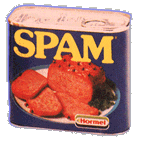 United States
January 29, 2007 6:25pm CST
Ok, got a friend request today from someone whose username was a spam link. The avatar was a matching spam link (not a picture at all, just text). Is this something new to myLot, or has anyone else seen this? Needless to say I denied this person. I already get enough spam in my messages!
5 responses


• United States
30 Jan 07
Wow! I can say that I have never seen that before here at myLot. I hope you reported it. :) I wonder how the person did that! I would think that person would be banned. It is amazing what people will do to try to cheat.

• United States
30 Jan 07
I haven't seen that yet. It's probably spam bots. They're impossible to keep off of sites - block one and ten more pop up in their place. I hated the ones all over yahoo. At least here they have to be added to your friends to bother you, so that should cut down on them bothering people.

• United States
30 Jan 07
Exactly. That's why I stopped using Yahoo.

• Thailand
30 Jan 07
True, there are a lot of spammer in mylot thats why im so careful in choosing my friends. I have encountered a spam link here and sad to say that i was not only bombarded with spam mails but i also received a virus from it. I believed mylot have deleted that topic with such a link.

• United States
30 Jan 07
There are a lot of scammers and spammers on myLot right now. Many are from Africa trying to con you into a good deal. Most are trying to get you to sign up on other sites. Some are just looking to use you as a referral on another site to make more money.