Second Chances!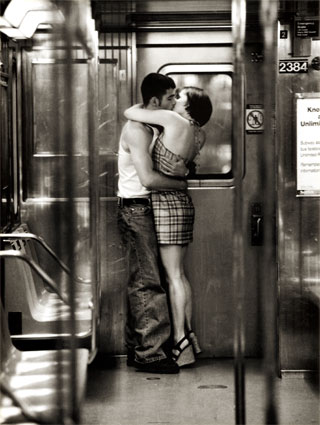 United States
January 29, 2007 8:40pm CST
Is love sweeter the second time around? Have you ever given a second chance to the one you love? I have and I do believe in this saying! Everybody learned from their mistakes. I think after all the pain and hurts we've been through, the person is worthy. Is it not how your relationship begun, it is how you ended up that matters.
9 responses

• Canada
30 Jan 07
Most second chances are indeed sweeter. If the parties involved knows how important it is to be given a second chance, they would give all their best in that relationships again. It is sweeter because both party understand now where they went worng. Theyve learned from their mistakes and from their shortcomings. They make up for it. They make it "sweeter" by relearning and adjusting to be nicer than the last time. Are they able to understand each other better on their secodn time because they already know which things arent right and which things arent worth fighting about.

• United States
30 Jan 07
Exactly! I think love on second chance is sweeter because it made the couple realized how important are they to each other. They would try harder not to mess things up because they already knew what would happen if they would. I think the way to love a person is to realize that they might be lost.

• United States
30 Jan 07
My second time around was so confusing. It wasn't sweeter, but it was better... That probably doesn't make much sense, but it's true.

• United States
30 Jan 07
Mine is probably the same sweeter and better, lol. Thanks for sharing!

• Philippines
30 Jan 07
maybe, because sometimes people would miss to recognize how lucky they are to have a partner until they are gone. and some do need space and time to contemplate on things and make sure they are really in love, sort of a break from the pressures of having a partner and when you are relieved of that and renewed from being alone and contemplating then you go back realizing you can't live without the other

• United States
30 Jan 07
I agree with you! Some people tend to love less on the first day or months of the relationship. They don't want to love all the way to prevent them from getting hurt. They don't know what they've got till it's gone. In my past experience, it is better to love then get hurt rather than not loving at all.

• United States
30 Jan 07
I think that can be true, but unfortunately, it was not for me. I gave someone a second chance in the past, and things actually got worse than ever. It started out better the second time since he seemed like he was genuinely sorry and wanted to be better, but then after a couple weeks, it just went back to the same stuff as before, and he even became abusive. It was AWFUL!! But that being said, I do think that it can work out the second time around for some people...I guess it just depends on the couple!

• United States
30 Jan 07
Yup! I think it really depends on the couple. If only one person is trying to work things out, what's the second chance for?

•
30 Jan 07
no matter what we say in here people do what they want to do,just they want us to say we are agree with them,if some one made a mistake, and you are going to give her/him a second chance then you have to look back and see, how the action's been done? was it intentional or not, and how harmful was it,would he really change or changed or he is after something again.

• United States
30 Jan 07
That's why you have to trust back the person all over again. If you think that person is worth it, why not give it a try.

• United States
30 Jan 07
I agree with the saying. The first time youre in love, you don't really know how to handle things, some things are akward, some things cause fights, some thing get on your nerves. The second time around, you know what to expect, so you can enjoy it better.

• Philippines
30 Jan 07
Nothing beats the first time. I'ts just a different feeling the second time around.

• Philippines
30 Jan 07
I do believe too that love the second time around is the most exciting and very much sweet and good

• Philippines
30 Jan 07
it is lovelier if the cause of the breakup before is not that serious wherein trust has been broken.when trust has been broken its very hard to get it back again.You tend to be suspicious everytime some things come up.