To ALL: MYLOT users. Agree or disagree?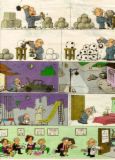 Philippines
January 30, 2007 7:37am CST
Learn to value the hard earned money and the effort you gave on this discussions. Like work,learn to love it than hating this site for giving us cents or whatever they gave you. Its not the winning or loosing,but on how you enjoyed what you are doing.Do not expect for more,just strive hard and have fun doing it. Again learn to love what you are doing.
No responses