Electric radio controlled helicopter hobby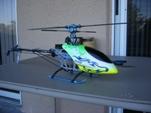 Trinidad And Tobago
January 30, 2007 2:56pm CST
Are you into or thinking about getting started in the r/c heli hobby? Are you not sure and you need some help and questions answered? Well that's what I'm here for. I'll be more than happy to help with your questions, help make decisions, or just discuss this amazing hobby. Whether you're already an experienced pilot or you're just starting out, this is the place for you.
1 response

• New Zealand
4 Feb 07
I have two boys and keen to get them started with R/C Helicopters as a hobby. Well, I found your post, now I am looking forward to a brief introduction as to how to get started.

• Trinidad And Tobago
5 Feb 07
Hi coffeechat. Well before I begin introducing r/c helicopters to you, I need some information from you. How old are your boys? Do they have any experience/exposure with radio controlled stuff? (cars, trucks, boats etc) Have they shown interest in r/c before? What are some of their other hobbies or stuff that they just like to do? Would you say they are 'mechanically' inclined? Answer these questions and we'll go from there.

• New Zealand
9 Feb 07
They are 8 and 5 and of course their dad and me too! The boys have had R/C cars and boats. We have never tried RC helicopters or planes. Thanks.