Dine & Dash with Paris & Nicole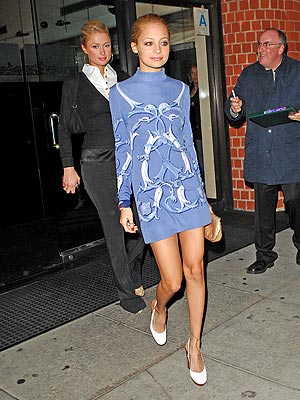 Philippines
January 30, 2007 7:21pm CST
Nicole Richie catches up with best friend Paris Hilton over dinner at Mr. Chow in Beverly Hills on Monday. They must have had a lot to talk about: Earlier in the day, Hilton filed a lawsuit to recover items, including risque videos, that have been displayed on pay-per-month web site for the past week.
1 response

• United States
31 Jan 07
I heard about that last week and wrote an article about it... http://www.xomba.com/whats_next_viewing_paris_hiltons_private_items_on_the_web It's weird, she didn't pay her bill on a storage space so someone bought the items at auction and is now charging people $40 to view them!

• Philippines
31 Jan 07
I just read about it yesterday and I visited the site. It is pretty a foul for a person to be expose that way. Though her attitude is unexplainable and she is really act st*pid most of the time, I know she will get hurt. But I don't know. Let's see what happen for the next few days. And I also wonder why she didn't the rent bill. Well, too much shopping and clubbing can be one or two reasons.